Crystal Quest UV Water Sanitizers
1 GPM to 84 GPM
60 GPH to 5,040 GPH

Crystal Quest CQE-UV-00101 Shown Above
Home & Commercial use Ultraviolet Water Purifiers.
Select systems feature integrated UV Lamp Monitor
10 Units to choose from - all featured below
SCROLL DOWN TO VIEW
& ORDER ALL CQ UNITS
CQ Ultraviolet Water Purifiers and UV Water Sanitizers utilize germicidal ultraviolet lamp/s that produce short wave radiation lethal to bacteria, viruses, parasites and many other microorganisms present in water such as coliform, E coli, Giardia, Staphylococcus, algae, mold and much more without the use of heat or any chemicals.

Click HERE to view list of Microorganisms disinfected by UV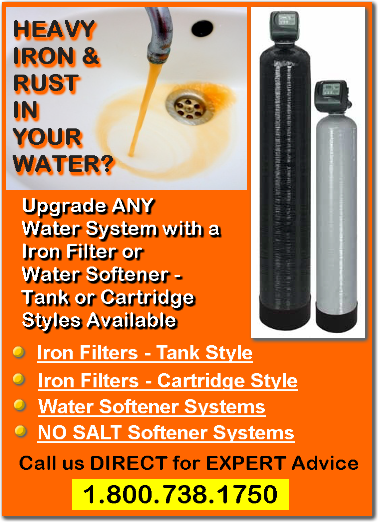 With over 40 years of manufacturing expertise, CQ commercial and residential Ultraviolet Water Treatment Systems are specifically designed to meet the demanding microorganism control concern in your water. These microorganisms can range from bacteria and viruses to algae and protozoa. A major advantage of Ultraviolet treatment is that it is capable of disinfecting water faster than chlorine without cumbersome retention tanks and harmful chemicals being added to your drinking water. CQ commercial and residential Ultraviolet Water Sterilizers are also extremely cost efficient, the most ecologically safe way of treating and sanitizing your water, and all for pennies a day!
CQ commercial and residential Ultraviolet Water Treatment Systems are manufactured with axial flow reactors in 304 stainless steel. The UV lamp incorporates natural ultraviolet light energy to eradicate microbiological contamination. Water enters through the bottom part of the reactor chamber and swirls around a high output, low pressure mercury vapor lamp thermally protected by a quartz sleeve. The UV lamp emits powerful ultraviolet light. Energy components contained in the microorganisms absorb the light energy; this disrupts their DNA and prevents reproduction, making them harmless.
With flow rates ranging from 1 to 84 gallons per minute, the CQ water disinfection units are suitable for use in small and large homes as well as small and large commercial and industrial water treatment installations. The Ultraviolet lamp/s should be replaced annually.
Economical and safe, the CQ Ultraviolet Water Purifiers offer rapid water treatment and disinfection without the use of heat or ANY chemicals - often for the lowest cost available by any means. Reduces bacteria, viruses, protozoa and microorganisms by 99.9%
The CQ Ultraviolet Water Sanitizer & UV Water Purifiers Features Include:
• Water Purification from 1 to 84 gallons per minute [GPM] = 60 to 5,040 gallons per hour [GPH]
• Potable & high purity water point-of-use applications
• Passivated and polished 304 Stainless Steel reactor chamber/s
• UV bulb life of approximately 9,000 hours (approx. 375 days)
• Audible Lamp Failure warning on all systems
• Select models also include; Total running time, Visual Lamp Life remaining and Lamp Replacement indicator
CQ UV Sanitizers Installation Guide
Our Ultraviolet Water Purifiers and UV Water
Sanitizer Applications include:
Well Water purification, sanitizing and disinfection
Home and Business water disinfection
Surface Water disinfection
Municipal Water sanitizing
Food Service and Food Processing water purification uses
Hospitals, Healthcare and Clinics
Aquaculture
Pharmaceuticals
Hotels, Resorts, Campgrounds and small communities
Water Bottlers and Beverage Bottlers
Laboratories
Marine and Aquarium uses
Agricultural, Farming, Dairies and Livestock water disinfection
Water Parks, Public Pools
and more...
Questions about our UV Water Sanitizers or Want to Build a Custom System? - Call us TOLL FREE: 1.800.738.1750 or DIRECT 561.660.3250
REPLACEMENT UV BULBS ► ORDER CQ UV Water Sanitizers replacement Ultraviolet Lamps and UV Bulbs
CQ UV Water Purifiers. Models with flow rates from 1 GPM* up to 84 GPM (60 GPH* to 5,040 GPH)
*GPM = Gallons per Minute / *GPH = Gallons per Hour
Model #

Flow Rate
GPM*
Dimensions
Port Size
(MNPT)
Inlet &
Outlet
Maximum
Pressure
Electrical
Lamp/s &
Quartz
Sleeve/s
Features
Price

Order

Width

Height

Length

CQE-UV-00101

1 gpm
2.5"
-
11"
1/4"
85 psi
110-130V
50-60 Hz
1/1
• Audible Lamp Failure
• LED "power-on" indicator

$169.00

CQE-UV-00102

6 gpm
3"
-
21"
1/2"
125 psi
110-130V
50-60 Hz
1/1
• Audible Lamp Failure
• LED "power-on" indicator

$389.00

CQE-UV-00103

8 gpm
3"
-
40"
1/2"
125 psi
110-130V
50-60 Hz
1/1
• Audible Lamp Failure
• LED "power-on" indicator

$499.00

CQE-UV-00104

12 gpm
3"
-
40"
3/4"
125 psi
110-130V
50-60 Hz
1/1
• Audible Lamp Failure
• LED "power-on" indicator

$569.00

CQE-UV-00105

24 gpm
6"
14"
40"
1"
125 psi
110-130V
50-60 Hz
2/2
• Audible Lamp Failure
• LED "power-on" indicator
• Lamp Replacement Indicator
• Audible Lamp Failure
• Total Running Time
• Visual Lamp Life Remaining

$1,799.00

CQE-UV-00106

36 gpm
7"
14"
40"
1"
125 psi
110-130V
50-60 Hz
3/3
• Audible Lamp Failure
• LED "power-on" indicator
• Lamp Replacement Indicator
• Audible Lamp Failure
• Total Running Time
• Visual Lamp Life Remaining

$2,069.00

CQE-UV-00107

48 gpm
8"
16"
40"
1.5"
125 psi
110-130V
50-60 Hz
4/4
• Audible Lamp Failure
• LED "power-on" indicator
• Lamp Replacement Indicator
• Audible Lamp Failure
• Total Running Time
• Visual Lamp Life Remaining

$2,369.00

CQE-UV-00108

60 gpm
9"
18"
40"
2"
125 psi
110-130V
50-60 Hz
5/5
• Audible Lamp Failure
• LED "power-on" indicator
• Lamp Replacement Indicator
• Audible Lamp Failure
• Total Running Time
• Visual Lamp Life Remaining

$2,969.00

CQE-UV-00109

72 gpm
9"
18"
40"
2"
125 psi
110-130V
50-60 Hz
6/6
• Audible Lamp Failure
• LED "power-on" indicator
• Lamp Replacement Indicator
• Audible Lamp Failure
• Total Running Time
• Visual Lamp Life Remaining

$3,269.00

CQE-UV-00110

84 gpm
9"
18"
40"
2.5"
125 psi
110-130V
50-60 Hz
8/8
• Audible Lamp Failure
• LED "power-on" indicator
• Lamp Replacement Indicator
• Audible Lamp Failure
• Total Running Time
• Visual Lamp Life Remaining

$3,469.00
NOTE: *GPM - Gallons per Minute / *GPH - Gallons per Hour
REPLACEMENT UV BULBS ► ORDER CQ UV Water Sanitizers Replacement UV Bulbs ◄ REPLACEMENT UV BULBS
7/19