Counter Top, Under Sink & Refrigerator / In-line Water Filtering Systems

Create "Pure Water" for less than a PENNY per gallon instantly
Attractive - Easy to install - Easy to use - Effective - Convenient
Over 60 unique Water Filter Systems
Counter Top Models - Under Sink Models - Under Sink RO Filters - Refrigerator / Ice Machine & Water Cooler Filters

Cost Comparisons and Quality Considerations of Filtered Water vs. Bottled Water
10,000 gallons of bottled water quality (10,000 x .80 cents per gallon). It is a savings of thousands of dollars over bottled water without traveling to a store, carrying them, and dumping thousands of empty water bottles into a landfill.
Now you can start your day with fresh, clean water from your tap, filtered by our top manufacturers water filter and water disinfection systems. All our water filtering systems are BPA Free!
2 STYLES OF WATER FILTRATION OFFERED
We offer 2 styles of the most efficient and highest quality water filtration systems available today. "Throw-away" units that will filter either 10,000, 20,000 or 30,000 gallons of water before the entire unit needs to be replaced. The cost of the entire unit is very affordable even though it is a disposable unit. We recommend this unit for those people who do not want to worry about changing filters, or are concerned that they could not properly change the filter system.
We also offer Under Counter / Under Sink and Above Counter water filter systems with replaceable cartridges. The changeable filter system are just as easy to install and use. The main unit is always in place and the filter must be changed according to usage. These systems are very easy to maintain and again the unit and it's filters are extremely affordable and easy to maintain.
Imagine, no more hassles with bottled water! The cleanest and healthiest drinking water possible without having to go to the store or have bottled water brought to your home.
It is like drinking water from a mountain stream right in your kitchen. No chlorine taste! No unpleasant odors! Just clean refreshing water for your healthy drinking pleasure, coffee, tea and cooking.
Our countertop water filtration systems are very simple to hook up and use. Nearly all install in minutes without tools on all standard faucets
---
Countertop Water Filters - EASY TO USE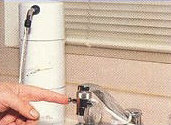 From unfiltered water to filtered with ease - just turn the diverter switch.
All of our CQ Water Filters include SIX stage filtration, many units feature SEVEN and EIGHT stages of water filtration.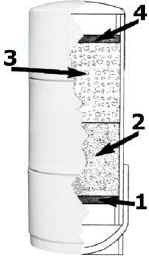 FIRST, water passes through two one - micron filtration pad, small enough to remove all visible particles as well as GIARDIA, CRYPTOSPORIDIUM and other microbiological CYSTS.
SECOND, Our systems contain a patented media, KDF (U.S. Patent 4,642,192), which has been tested to drastically reduce or effectively remove: Chlorine, Lead, Arsenic, Barium, Cadmium, Chromium, Selenium, Mercury, Iron and other metals that may be present in the water. KDF is listed under NSF standard 61 (health effects) for water treatment plant applications. Click here to learn more about KDF
THIRD, The Coconut Shell Granular Activated Carbon is used to improve the taste and odor and to remove: Chlorine, THMs, PCBs and hundreds of other organic contaminants that may be present in the water. The Coconut Shell GAC listed under NSF standard 42. Click here to learn more about GAC
FOURTH, water flows through another two one - micron filtration pad for further reduction of undesirable particles. The end result is total elimination or great reduction of a wide variety of contaminants.
Go directly to our Above Counter Water Filters Page