Do You know what is in your tap water?
MUNICIPAL WATER QUALITY -
Chlorine, used by municipalities to disinfect water supplies, can react with naturally occurring organic materials (NOM) in water. For example, decayed leaves in your water reacting to chlorine or chloramine in the water which can create trihalomethanes, a suspected cancer causing chemical. These kind of disinfection byproducts in your water can also cause other health effects including liver, kidney or central nervous system problems.
Dr, Joseph M. Price, MD in his book "Coronaries/Cholesterol /Chlorine", wrote that the cause of arteriosclerosis, resulting heart attack, and strokes is none other than the chlorine in our drinking water.
A recent study by the U.S. Council on Environmental Quality has established a definite link in the chlorination of water and cancer. One of the studies showed that the cancer risk among people drinking chlorinated water is 93% higher than among those who live where the water is not chlorinated.
It seems that almost daily there is a news story, magazine article or television special on the subject of the poor quality and potential hazards of drinking water. Almost every newspaper in the country has carried stories of pesticide contamination of water supplies or trichloroethanes, another suspected cancer causing chemical, being found in water supplies.
There are an estimated 200,000 industrial waste sites, over 20,000 municipal landfills and 100,000+ ruptured underground gasoline storage tanks in the United States that leech contaminants into our drinking water.
Why Buy From Us?
It's EASY - PRICE, SERVICE and KNOWLEDGE!

At Purest Filters we have specialized in all types of water filtration and water treatment systems for over 20 years, including home and commercial use systems, city and well water, reverse osmosis, agricultural, coliform, bacteria and microorganism elimination and many other specialized water treatment systems. These water systems also include the filtering and elimination of fluoride, arsenic, sodium, ph and nitrates, just to name a few other water treatment issues.
We custom design every water treatment system we sell based on your water to obtain the best possible results with top of the line filters, tanks, valves, media, that keep your system trouble free at very affordable prices. Unlike big box stores we start with your test results or in the case of city water the EPA report posted on your water company's website. We carefully examine the report to identify various levels of metals, hardness and other things that can effect taste, odor, color, and anything that you as a customer may be concerned with.
In the case of well, rain or any other natural water source not treated for bacteria we custom design each system from the source to protect you from coliform, E coli, Giardia, staphylococcus bacteria and other microorganisms with the addition of one of our over 170+ chemical-free ultraviolet water disinfection systems.
Over 130+ Integrated UV Water Disinfection Systems with Water Cartridge Filters as 1 integrated complete water treatment system - Whole House or Point of Use.
We also offer point-of-use systems that can fit under your sink or counter top units. So if you are in need of a water system call Toll FREE 1.800.738.1750 or DIRECT 561-660-3250 to speak directly with our full time water treatment specialist. You will find that one of our custom designed water treatment systems is often less costly than you might think.
Thankfully, the public is becoming better informed about the situation and thus is concerned about drinking unfiltered and/or untreated municipal tap water. As a result, Americans in growing numbers are turning to bottled water. However, bottled water is expensive, inconvenient and has no guarantee of purity.
Our water filter systems are perfect alternatives to bottled water and other expensive water filter systems. Our systems are created to provide superb quality drinking water conveniently, effectively and reliably and at a very low cost per gallon.
For your information - The Environmental Protection Agency supplies basic information on the condition of your local water supply. Check out the EPA's directory of local Water Reports.

---

Whole House Water Filter Systems - Cartridge Water Filters with UV Water Purifiers on MANY Select Models

Home Use, Well Water Filters and Water Sanitizing Systems
DRINKING WATER, COOKING WATER, SINKS, SHOWERS, BATHS, WASHERS AND TOILETS
Replaceable Cartridge Styled Water Filter Systems with added UV Water Sanitizers for clean and healthy home water
Laundry is brighter, softer, fresher - Food and Beverages are better tasting - Skin and Hair are soft, smooth, manageable - Soap and cleaners are more effective - Mineral deposits and scaling are eliminated from plumbing, appliances and surfaces.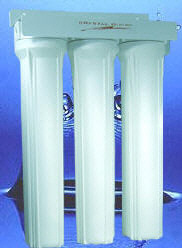 Purest Filters is proud to offer the protection of a number of whole house cartridge style water filtration systems & whole house cartridge style filter systems with integrated UV water disinfection added.
View our Whole House Cartridge Water Filtration Systems which includes our single, dual and triple cartridge systems (shown at left).
View our own Purest Filters Single, Double & Triple Cartridge Systems - Easily add custom filters to our systems, to treat your specific water treatment issues. Affordable, effective, BPA FREE and built to last, our Purest Filters own filter systems are built by professionals for your safest and best tasting water.
View our Whole House Cartridge Filters with UV Water Disinfection built in. These include dozens of custom designed whole house water treatment systems.
Also, NO maintenance contracts, NO commitments to purchase replacement cartridges and filters from us ever. You can purchase your replacement filters or water filter supplies from most any water filter retailer.
We also offer a full range of replacement filters and parts for our systems and most others water filtering systems.
These exceptional Whole House Water Filtration and UV Water Sanitizing systems are available from Purest Filters. Call us TOLL FREE: 1.800.738.1750 or DIRECT 561.660.3250 with any questions you may have.
---

Under Sink Water Filtering Systems

Create "Pure Water" for less than a PENNY per gallon instantly
Attractive - Easy to install - Easy to use - Effective - Convenient
Over 60 unique Water Filter Systems
Under Sink Models - Under Sink RO Filters

Cost Comparisons and Quality Considerations of Filtered Water vs. Bottled Water
10,000 gallons of bottled water quality (10,000 x .80 cents per gallon). It is a savings of thousands of dollars over bottled water without traveling to a store, carrying them, and dumping thousands of empty water bottles into a landfill.
Now you can start your day with fresh, clean water from your tap, filtered by our top manufacturers water filter and water disinfection systems. All our water filtering systems are BPA Free!
2 STYLES OF WATER FILTRATION OFFERED
We offer 2 styles of the most efficient and highest quality under sink / under counter water filtration systems available today. "Throw-away" units that will filter either 10,000, 20,000 or 30,000 gallons of water before the entire unit needs to be replaced. The cost of the entire unit is very affordable even though it is a disposable unit. We recommend this unit for those people who do not want to worry about changing filters, or are concerned that they could not properly change the filter system.
We also offer Under Counter / Under Sink water filter systems with replaceable cartridges. The changeable filter system are just as easy to install and use. The main unit is always in place and the filter must be changed according to usage. These systems are very easy to maintain and again the unit and it's filters are extremely affordable and easy to maintain.
Imagine, no more hassles with bottled water! The cleanest and healthiest drinking water possible without having to go to the store or have bottled water brought to your home.
It is like drinking water from a mountain stream right in your kitchen. No chlorine taste! No unpleasant odors! Just clean refreshing water for your healthy drinking pleasure, coffee, tea and cooking.