UV Dynamics UV Water Sanitizers
6 GPM to 50 GPM
360 GPH to 3,000 GPH
UV Dynamics UVD240 Shown Above
UVD800 Shown Below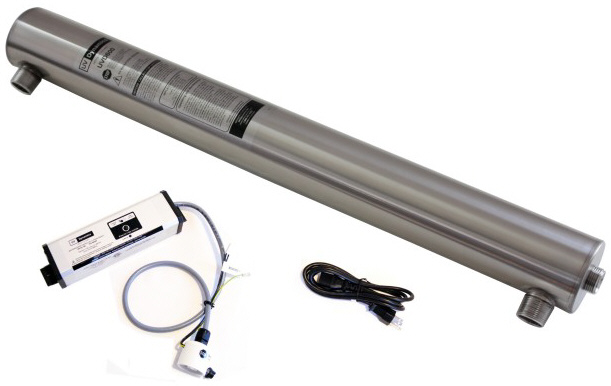 Home & Commercial use UV Water Purifiers
14 Units to choose from - featured below
SCROLL DOWN TO ORDER

UV Dynamics Ultraviolet Water Purifiers and UV Water Sanitizers utilize germicidal ultraviolet lamps that produce short wave radiation lethal to bacteria, viruses, parasites and other microorganisms present in water such as coliform, E coli, Giardia, Staphylococcus, algae, mold and much more..

Click HERE to view list of Microorganisms disinfected by UV

With flow rates ranging from 6 to 50 gallons per minute, the UV Dynamics ultraviolet light water disinfection series is suitable for use in small and large homes as well as small commercial and industrial installations.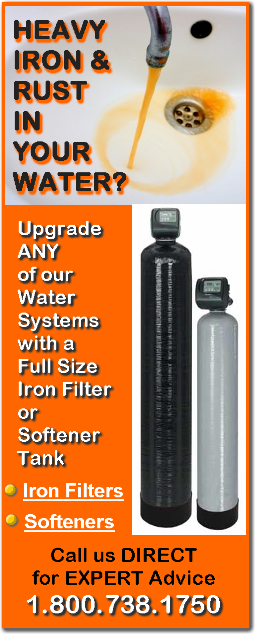 The microprocessor controlled UV power source is designed for long life and includes both visual and audio lamp failure alarms as well as an annual lamp change timer. Optional isolated low voltage solenoid drive outputs and UV monitors allow for customization to specific installation requirements.
Economical and safe, the UV Dynamics Ultraviolet Water Purifiers offer rapid water treatment without the use of heat or any dangerous chemicals - often for the lowest cost available by any means.
The UV Dynamics General Purpose UV Water Sanitizer & UV Water Purifiers Features Include:
• Water Purification from 6 to 50 gallons per minute [GPM] = 360 to 3,000 gallons per hour [GPH]
• Potable & high purity water point-of-use applications
• Passivated and polished 304 Stainless Steel reactor chambers manufactured from A249 pressure rated tube
• UV bulb life of approximately 9,000 hours (approx. 375 days)
• Reduces bacteria, viruses, protozoa and microorganisms by 99.99%
• Microprocessor controlled UV power source with audible and visible lamp failure alarms
• Annual UV lamp replacement reminder feature

• Lamp life remaining feature
• Domed quartz sleeve to simplify servicing
• No tools required for regular servicing
• Easy-service lamp connector
• Multi-Installation Options - Can be mounted horizontally or vertically
•
• QR codes enable access to quick reference maintenance guide via smart phones
• UV Dynamics EPA Registration # - EPA Est 089330-CAN-001.
UVDynamics Standard Series UV Water Sanitizers Info
Our UV Water Purifiers and UV Water Sanitizer Applications include:
Small & Large Home and Business water disinfection
Well Water sanitizing and disinfection
Surface Water disinfection
Municipal Water sanitizing
Restaurants, Food Service and Food Processing water disinfection uses for drinking water, beverage and ice machine water...
Hospitals, Healthcare and Clinics
Aquaculture
Pharmaceuticals
Hotels and Resorts, Campgrounds, Rural and Remote Community water treatment
Water Bottlers and Beverage Bottlers
Laboratories
Marine and Aquarium uses
Agricultural and Farming water disinfection
Water Parks, Public Pools and more...
Questions about our UV Water Sanitizers or Want to Build a Custom System?
Call us TOLL FREE: 1.800.738.1750 or DIRECT 561.660.3250


Stainless Steel UV Dynamics Ultraviolet Water Purifiers & Sanitizers


Models with flow rates from 6 GPM up to 50 GPM (360 GPH to 3,000 GPH)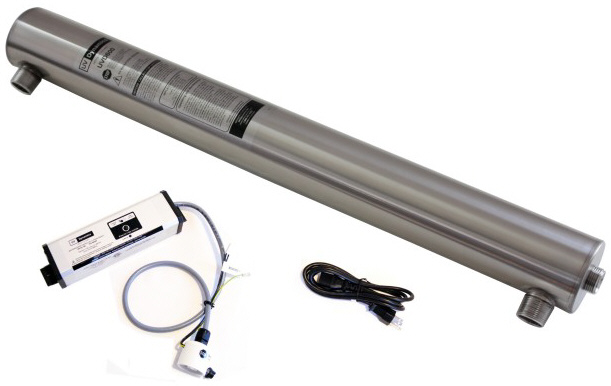 UV Dynamics UVD240 shown above left / UVD800 shown above right
Click on ANY image above to view as a larger image slideshow gallery
UV Dynamics Model #
Flow Rate
(GPM*)
Dimensions
Port Size
(MNPT)
Electrical
Solenoid
Output
Price
Order
Width
Height
Length
UVD180
6 gpm
4"
6"
16"
3/4"
120V
No

$399.00

---

UVD240
8 gpm
4"
6"
18"
3/4"
120V
No

$403.00

UVD245
8 gpm
5"
6.5"
16"
3/4"
120V
No

$453.00

---

UVD320
10 gpm
4"
6"
18"
3/4"
120V
Yes

$595.00

UVD320E
10 gpm
4"
6"
18"
3/4"
120V
No

$503.00

---

UVD400
13 gpm
4"
6"
22"
3/4"
120V
Yes

$608.00

UVD400E
13 gpm
4"
6"
22"
3/4"
120V
No

$579.00

---

UVD485
16 gpm
4"
6,5"
24.25"
1"
120V
Yes

$670.00

UVD485E
16 gpm
4"
6.5"
24.25"
1"
120V
No

$624.00

---

UVD600
20 gpm
4"
6.5"
37"
1"
120V
Yes

$778.00

UVD800
26 gpm
4"
6.5"
37"
1"
120V
Yes

$799.00

UVD1000
33 gpm
5"
6.5"
37"
1"
120V
Yes

$857.00

UVD1200
40 gpm
4"
6.5"
50.5"
1"
120V
Yes

$999.00

UVD1500
50 gpm
5"
6.5"
50.5"
1"
120V
Yes

$1,109.00
Most units offered above with built in Automatic UV Monitoring System can be viewed HERE
NOTES: Flow rates are stated at 30mJ/cmē at 95% UVT. External ballast and power cord are included.
*GPM - Gallons per Minute / *GPH - Gallons per Hour
2/22
ORDER UV Dynamics Replacement UV bulbs below - SCROLL DOWN