TANK MASTER ULTRAVIOLET AIR, WATER & LIQUID
STORAGE SANITIZERS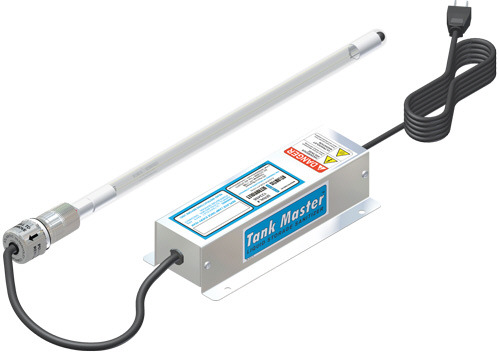 All Units Available as 120V
Many Also Available as 220 & 12V DC
1 Unit available as a 24V DC system

SCROLL DOWN TO ORDER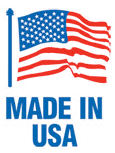 Tank Master Ultraviolet Liquid Storage Sanitizer provides in-place ultraviolet disinfection for your air, water tank or other liquid sanitizing applications. The Tank Master Ultraviolet Liquid Storage Sanitizer will help maintain the quality of the air space and liquid contents of a storage tank. Many factors will affect the results of a Tank Master installation including: proper sizing (lamp size/quantity vs. tank size/ capacity), ultraviolet transmission/absorbance of the liquid, proximity to the ultraviolet lamp, etc.
Click HERE to view list of Microorganisms disinfected by UV
STER-L-RAY Instant Start Germicidal Ultraviolet Lamps - Lamps are high quality ultraviolet lamps rated for 10,000 hours of continuous use. Lamp life is governed by the life of the filaments and is affected by the frequency of starting. STER-L-RAY lamps are well suited for a variety of air and water purification applications, which require high ultraviolet intensity.
< Single Lamp Unit shown at left, some Tank Master sanitizer units available as 2 lamp units for increased sanitizing power and reach on a single ballast unit (dual lamp unit shown below). Dual lamp units are clearly marked below in our ordering section - Click HERE to jump to ordering section.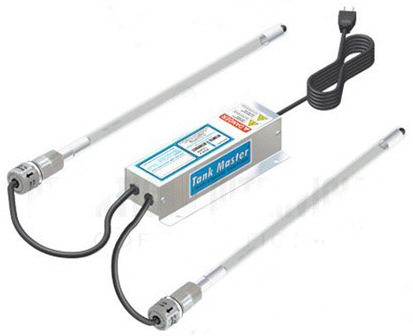 TANK MASTER
UV SANITIZER Features Include:
Easy-Off Retainer Cap - A patented feature that enables effortless lamp replacement. No tools are required.

Steadfast Lamp Holders - Includes a socket that holds a four pin lamp securely, and facilitates convenient, quick and easy lamp changes.

1" Male NPT - Allows threading directly into a female NPT on tank.

Surelite Ballast - State-of-the-art electronic ballasts specifically developed for the operation of ultraviolet lamps. Versatile, instant start ballasts provide higher lamp output; are smaller, lighter, more efficient and operate cooler than magnetic ballasts.

Crystal Clear Quartz Sleeve - Insures optimum lamp output at normal temperatures.

1" NPT bulkhead fitting (optional) - The Tank Master static gland fitting requires an available 1" female NPT fitting to mount to the storage tank. If an appropriate fitting is not available, this optional 1" NPT bulkhead fitting can be utilized. The optional bulkhead fitting has certain minimum dimensional requirements and may require modifications to the tank. Please contact us regarding your application.
TANK MASTER
UV Water SANITIZER Product Overview:
Disinfects the air space and surfaces above the liquid, and the liquid contents.

Irradiates contents with germicidal ultraviolet rays, without the use of heat or chemicals.

Germicidal UV Lamp (10,000 hour rated effective life)

Quick Lamp Change and Fused Quartz Sleeve

Design allows most models to be mounted vertically or horizontally into the storage tank

Can be either mounted into the storage tank (submerged in the liquid contents) or suspended vertically from the top of the storage tank (partially immersed in the liquid contents).

State-of-the-Art Electronic Ballast

Many Tank Master Ultraviolet Liquid Sanitizers are available as 120V, 220V, 12V DC and 24V DC systems

Select units feature 2 UV bulbs for additional sanitizing reach - clearly marked in ordering section below
Examples of TANK MASTER UV Water Applications include:
Water, Process Water and Liquid Holding Tanks
Contact us directly for assistance in choosing the appropriate UV sanitizing unit for your application - We have over 170 units to choose from!.