UV Dynamics Ultraviolet Water Purifiers and UV Water Sanitizers utilize a germicidal ultraviolet lamp that produces short wave radiation lethal to bacteria, viruses, parasites and other microorganisms present in water such as coliform, E coli, Giardia, Staphylococcus, algae, mold and much more. Click on the link below to view a more comprehensive list.
Click HERE to view list of Microorganisms disinfected by UV
UV Dynamics Mini-Rack ultraviolet water sanitizers and water filter systems combine up to three Big Blue style water filter housings and a UV water disinfection system into one simple, clean looking and integrated complete water filtering and disinfection system.
The Mini-Rack water filtering and UV disinfection system uses a special variation of the UV Dynamics UV water sanitizers, and is equipped with a bottom mounted 1/4" drain plug to facilitate winterization in seasonal applications. This well designed integrated water treatment system installs easily, is easy to service and will provide long lasting value and healthy, clean water!
The Mini Rack is manufactured from rugged 10 gauge HR commercial grade steel and is finished in a tough powder coat finish which will keep the system secure and looking good as new for many years. All systems are designed into an easy to mount wall mount unit. The Mini-Rack system also has an optional floor stand to simplify installation where wall mounting is impracticable.
With water flow rates ranging from 6 to 16 gallons per minute, the UV Dynamics UV water sanitizers and cartridge water filter systems are suitable for use in small and large homes as well as small commercial and industrial installations.
They can easily be used at a point-of-entry or point-of-use water location - i.e. under counter / under sink or inline to water coolers, ice machines, etc. Also often used at point-of-entry for whole house water filtering and disinfection. The dual and triple 20" cartridge units are often used in the complete filtering and disinfection of poor quality and/or contaminated well water into your home.
Economical and safe, the UV Dynamics ultraviolet water purifiers offer rapid water treatment without the use of heat or any dangerous chemicals - often for the lowest cost available by any means. Reduces bacteria, viruses, protozoa and microorganisms by 99.99%. Click HERE to view list of Microorganisms disinfected by UV
Our Purest Filters FREE UPGRADE to the UV Dynamics Mini Racks
Nearly all online retailers of these UV Dynamics water treatment systems deliver them WITHOUT filter cartridges. WE include high efficiency 5 micron water filter cartridge/s with all our single, dual and triple UV Dynamics Mini-Rack water treatment and filtering systems.
Our single cartridge systems include a 5 micron sediment filter cartridge. Our dual cartridge systems include a 5 micron sediment filter cartridge and a high capacity 5 micron carbon filter cartridge, or you can choose to customize the 2nd cartridge (additional cost applies) with either a 1 micron 6-stage filter, arsenic filter, lead filter, nitrate filter, fluoride filter, iron filter, water softening (Cation), and other optional filter cartridges.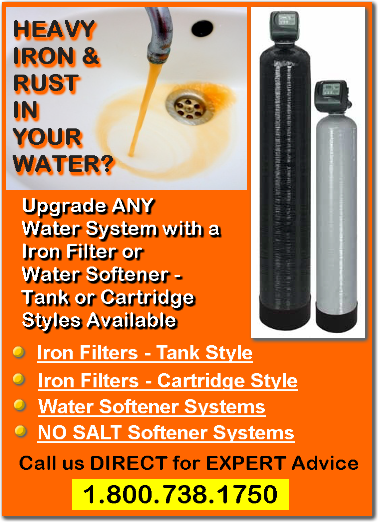 • SEDIMENT FILTER: Heavy duty high flow sediment filter removes; extra-fine dirt, sand, sediment, silt, rust particles, scale particles, asbestos and any particles larger than 5 microns.
• CARBON FILTER: Heavy duty high flow carbon filter removes; chlorine, chloramine, bad taste, odors and VOC's including insecticides, pesticides, industrial solvents*. The 10"x5" carbon filter is rated for up to 80,000 gallons of filtration and our 20"x5" carbon filter is rated for up to 160,000 gallons filtration.
MINI RACK BIG BLUE replacement cartridges are standard 10" or 20" x 5" high capacity filter cartridges, and available here or at many water products retailers or on most water filter sales sites online.
*when present in your water
ORDER UV Dynamics MINI-RACK UV Replacement Bulbs HERE