LUMINOR UV Water Sanitizers & Cartridge Water Filter Systems
8 GPM or 15 GPM
480 GPH to 900 GPH
LUMINOR BLACKCOMB 4.1 RACK Systems
Shown below: (1 of 4 units)
LUMINOR BLACKCOMB 4.1 - LB4-Z1

SCROLL DOWN TO ORDER
LUMINOR BLACKCOMB 5.1 High Capacity Rack Systems
Show below: (1 of 4 units)
LUMINOR BLACKCOMB 5.1 - LB5-Z12
SCROLL DOWN TO ORDER

LUMINOR Ultraviolet Water Purifiers and UV Water Sanitizers utilize a germicidal ultraviolet lamp that produces short wave radiation lethal to bacteria, viruses, parasites and other microorganisms present in water such as coliform, E coli, Giardia, Staphylococcus, algae, mold and much more. Click on the link below to view a more comprehensive list.
Click HERE to view list of Microorganisms disinfected by UV
The LUMINOR combination ultraviolet water sanitizers and water filter systems combine either 1 or 2 water filter housings and a high efficiency UV water disinfection system into one simple, clean looking, easy to install integrated complete water filtering and disinfection system.
The LUMINOR water filtering and UV disinfection system is a well designed integrated water treatment system that installs easily, is easy to service and will provide long lasting value and healthy, clean water!
The LUMINOR wall mount bracket is manufactured from rugged commercial grade steel and painted with a tough finish which will keep the system secure and looking good as new for many years.
With water flow rates of either 8 or 15 gallons per minute, the LUMINOR UV water sanitizers and cartridge water filter systems are suitable for use in small and large homes as well as small commercial and industrial installations.
They can easily be used at a point-of-entry or point-of-use water location - either under counter / under sink or inline to water coolers, ice machines, etc. Also the higher volume 15 GPM systems are most often used at point-of-entry for whole house water filtering and disinfection. The dual cartridge units are often used in the complete filtering and disinfection of poor quality and/or contaminated rural or well water into your home.
Economical and easy to install, the LUMINOR ultraviolet water purifiers offer rapid water treatment without the use of heat or any dangerous chemicals - often for the lowest cost available by any means. Reduces bacteria, viruses, protozoa and microorganisms by 99.99%. Click HERE to view list of Microorganisms disinfected by UV
Water Filtering Cartridge/s Included with your LUMINOR Water Treatment System
Our LUMINOR single cartridge systems include a 5 micron sediment filter cartridge. Our LUMINOR dual cartridge systems include a 5 Micron sediment filter cartridge and a 5 Micron carbon filter cartridge. Any system can utilize one of our additional specialty water filters (additional cost applies) with either a 1 micron 6-stage filter, arsenic filter, lead filter, nitrate filter, fluoride filter, iron filter or water softening (Cation) filter cartridge, and other options. Replacement & optional filters listed at end of this page.
• SEDIMENT FILTER: Heavy duty high flow sediment filter removes; extra-fine dirt, sand, sediment, silt, rust particles, scale particles, asbestos and any particles larger than 5 microns.
• CARBON FILTER: Heavy duty high flow carbon filter removes; chlorine, chloramine, bad taste, odors and VOC's including insecticides, pesticides, industrial solvents*.
*when present in your water
Questions about our Water Sanitizers & Water Filtering Systems?
CALL US - TOLL FREE: 1.800.738.1750 or DIRECT 561.660.3250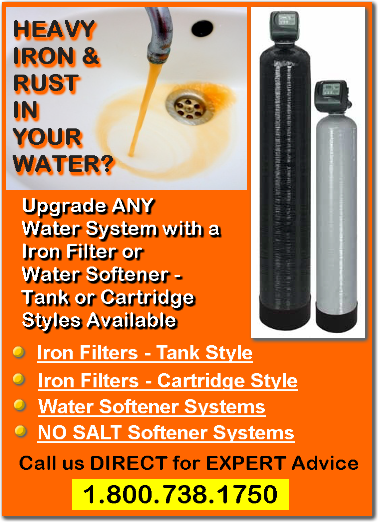 The LUMINOR UV Water Sanitizer & UV Water Purifiers features also include:
• Water Filtration & Disinfection of either 8 or 15 gallons per minute [GPM] = 60 to 1320 gallons per hour [GPH]
• Potable & high purity water point-of-use applications
• Polished 316L Stainless Steel reactor chamber for maximum Ultraviolet sanitizing efficiency
• Nominal 8 or 15 GPM flow rates at 30mJ dose
• Audio / visual lamp timer included on select UV systems
• UV bulb life of approximately 9,000 hours (approx. 375 days)
• No tools required for regular servicing
• Easy-service lamp connector
SCROLL DOWN TO ORDER OUR SINGLE & DUAL CARTRIDGE LUMINOR UV UNITS
Our LUMINOR Ultraviolet Water Purifiers and Cartridge Filter Applications include:
Home and Business water filtration, treatment and disinfection, Well Water treatment, purification and disinfection
Surface Water disinfection
Municipal Water sanitizing, Rural Water sanitizing
Restaurants, Food Service and Food Processing water purification and disinfection uses
Hospitals, Healthcare and Clinics, Pharmaceuticals
Hotels and Resorts, Campgrounds, Rural & Private Communities
Water Bottlers and Beverage Bottlers
Laboratories, and more...
POINT-OF-USE
LUMINOR UV SANITIZER & WATER FILTER TREATMENT RACK SYSTEMS

BLACKCOMB 4.1 UV & Water Filter Rack Systems
- LUMINOR's new line of rack-mounted UV filtration systems offer the convenience of an all-in-one package making installation a simple "in & out" connection. Designed to effectively treat flow rates of 8 & 15 GPM, LUMINOR's rack-mounted UV filtration systems provide the required 5 micron pretreatment with the option of a 2nd pre-filter for the addition of a full-flow carbon filter to treat taste and odor. The 2nd filter cartridge could also be used for any other custom water filter your water issues may require.

Optional GAC Carbon, Arsenic, Lead, Nitrate, Fluoride, Iron, 1 Micron 6-stage filtering and Cation (water softening) cartridges are also available for your 2nd filter (on dual sump systems) (Replacement & optional filters listed at end of this page). ALL our Water Filter Systems are BPA FREE!

The LUMINOR BLACKCOMB 4.1 series all feature a 5" wide filter cartridge/s with dual units featuring a 2nd 20"x5" carbon filter. For higher capacity filtering - View the Higher Output 5.1 series below.

Installation of a UV water filtration system has never been easier with an innovative design that allows for feed water to enter the filters from either the right or left side of the unit. Based on LUMINOR's groundbreaking modular UV water treatment systems, the rack-mount UV ALL-in-ONE Rack Systems offer the flexibility of being "factory ready" to accept a UV intensity module in the future if so desired. The BLACKCOMB plug and play platform has the most advanced residential controller on the market with a color user interface giving a multitude of screens displaying diagnostics, status, warnings and QR codes for a quick link back to LUMINOR's website, for more information.

Want to further customize any one of these affordable LUMINOR water treatment systems? - Call us TOLL FREE: 1.800.738.1750 or DIRECT 561.660.3250

BLACKCOMB 4.1 Rack-Mount Residential UV / Filtration Systems
---

BLACKCOMB 5.1 UV & Water Filter Rack Systems -
LUMINOR's newest line of rack-mounted UV filtration systems offer the convenience of an all-in-one package making installation a simple "in & out" connection. Designed to effectively treat flow rates of 8 & 15 gpm, LUMINOR's rack-mounted UV filtration systems provide the required 5 micron pretreatment with the option of a 2nd pre-filter for the addition of a full-flow carbon filter to treat taste and odor. The 2nd filter cartridge could also be used for any other custom water filter your water issues may require.

Optional GAC Carbon, Arsenic, Lead, Nitrate, Fluoride, Iron, 1 Micron 6-stage filtering and Cation (water softening) cartridges are also available for your 2nd filter (on dual sump systems) (Replacement & optional filters listed at end of this page). ALL our Water Filter Systems are BPA FREE!

The LUMINOR BLACKCOMB 5.1 series all feature a higher filtering capacity 10"x5" and/or 20"x5" Wide filter cartridge/s. Both Dual Filter systems feature a 2nd 20x5 inch high capacity carbon filter.

Installation of a UV water filtration system has never been easier with an innovative design that allows for feed water to enter the filters from either the right or left side of the unit. Based on LUMINOR's groundbreaking modular UV water treatment systems, the rack-mount UV water filtering and treatment systems offer the flexibility of being "factory ready" to accept a UV intensity module in the future if so desired. The BLACKCOMB plug and play platform has the most advanced residential controller on the market with a color user interface giving a multitude of screens displaying diagnostics, status, warnings and even QR codes for a quick link back to the LUMINOR manufacturer website, for more information.

Want to further customize one of these LUMINOR complete water treatment systems? - Call us TOLL FREE: 1.800.738.1750 or DIRECT 561.660.3250

BLACKCOMB 5.1 Rack-mount residential UV / filtration systems

*GPM - Gallons per Minute / *GPH - Gallons per Hour