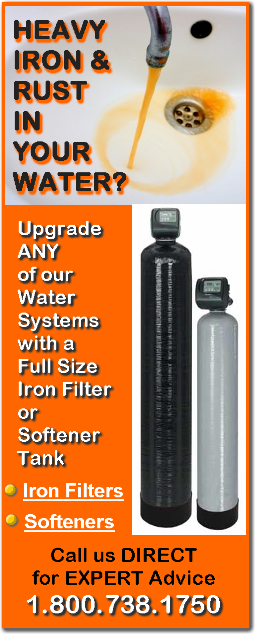 THE HEALTHIER WATER SOLUTION TO PROTECT YOUR ENTIRE HOMES WATER -
Well Water Filter and Water Sanitizing Systems Whole House Cartridge Styled Water Filters with Ultraviolet Water Sanitizers Built in
Chemical FREE Clean & Healthy - DRINKING WATER, COOKING WATER, SINKS, SHOWERS, BATHS, WASHERS AND TOILETS
All of the following whole house water filtering units feature easily replaceable universally sized 9 3/4" and 20" long by 4 5/8" wide cartridge water filters.
Purest Filters is proud to offer the protection of a number of whole house water filtration & UV water purifier and sanitizer systems ("All-in-One" Water Treatment Systems - all featured below - SCROLL DOWN to view all).
Our featured mid-size cartridge style whole house water filter and UV water purifier systems also include the complete water treatment system by HydroSafe (shown at right).
The mid-size Hydrosafe 3-in-1 Flow Max water filter systems featured below include a built-in and integrated Ultraviolet / UV water purifying and disinfection unit that provides highly filtered and sanitized healthy water at rates up to 14 gallons per minute.
Also, NO maintenance contracts, NO commitments to purchase replacement cartridges, UV lamps and filters from us ever. You can purchase your replacement filters, water filter supplies, replacement Ultraviolet lamps and bulbs from us or most any water filter retailer either in their store or online.
Add a water softener system to your whole house water filter system for water that provides: Laundry is brighter, softer, fresher - Food and Beverages are better tasting - Skin and hair are soft, smooth, manageable - Soap and cleaners are more effective - Mineral deposits and scaling are eliminated from plumbing, appliances and surfaces.
We also offer a full range of replacement filters and parts for our water treatment and filtering systems and most others systems.
These exceptional whole house water filtration and UV water sanitizing systems are available from Purest Filters. Call us Toll Free 1-800-738-1750 with any questions you may have.
Free Ground Shipping** in the Continental U.S.
Grounded electrical outlet when required are the responsibility of the customer.
Installation by a qualified plumber is highly recommended.
Mini Rack Water Filters and UV Water Purifier Systems

Featured below: Our series of integrated UV Dynamics Mini-Rack UV water sanitizers with 1, 2 or 3 high volume (5" wide by 10" or 20" long) cartridge water filters integrated into one easy to use complete water filtering, treatment and purification system. UV Dynamics EPA Registration # - EPA Est 089330-CAN-001.

54 point-of-entry, home use, well water treatment and light commercial use ultraviolet water sanitizers with single, dual or triple 5x10" or 5x20" cartridge water filters are featured directly below


UV Dynamics Mini-Rack UV Water Sanitizers & Cartridge Water Filter Systems
6 GPM to 16 GPM = 360 GPH to 960 GPH

UV Dynamics Single Mini Rack Systems

Shown below: UV Dynamics Single 10" Cartridge Mini Rack and Single 20" Cartridge UV Mini Rack.


SCROLL DOWN TO ORDER

UV Dynamics Dual Mini Rack Systems

Show below: UV Dynamics Dual 10" Cartridge Mini-Rack UV & Water Filter System and Dual 20" Cartridge Mini-Rack Water System


SCROLL DOWN TO ORDER

UV Dynamics Triple Mini Rack Systems

For the most complete whole house Mini Rack cartridge style water filtering and ultraviolet water purifying systems. Shown below: 20" UV Dynamics Triple Cartridge Mini-Rack UV water treatment system.


Triple UVD Mini-Rack shown above

SCROLL DOWN TO ORDER


UV Dynamics Ultraviolet Water Purifiers and UV Water Sanitizers utilize a germicidal ultraviolet lamp that produces short wave radiation lethal to bacteria, viruses, parasites and other microorganisms present in water such as coliform, E coli, Giardia, Staphylococcus, algae, mold and much more. Click on link below to view a more comprehensive list.

Click HERE to view list of Microorganisms disinfected by UV

UV Dynamics Mini-Rack ultraviolet water sanitizers and water filter systems combine up to three Big Blue style water filter housings and a UV water disinfection system into one simple, clean looking and integrated complete water filtering and disinfection system.

The Mini-Rack water filtering and UV disinfection system uses a special variation of the stainless steel UV Dynamics UV water sanitizers, and is equipped with a bottom mounted 1/4" drain plug to facilitate winterization in seasonal applications. This well designed integrated water treatment system installs easily, is easy to service and will provide long lasting value and healthy, clean water!

The Mini Rack is manufactured from rugged 10 gauge HR commercial grade steel and is finished in a tough powder coat finish which will keep the system secure and looking good as new for many years. All systems are designed into an easy to mount wall mount unit. The Mini-Rack system also has an optional floor stand to simplify installation where wall mounting is impracticable.

With water flow rates ranging from 6 to 16 gallons per minute, the UV Dynamics UV water sanitizers and cartridge water filter systems are suitable for use in small and large homes as well as small commercial and industrial installations.

They can easily be used at a point-of-use water location - i.e. under counter / under sink or inline to water coolers, ice machines, etc. Also often used at point-of-entry for whole house water filtering and disinfection. The dual and triple 20" cartridge units are often used in the complete filtering and disinfection of poor quality and/or contaminated well water into your home.

Economical and safe, the UV Dynamics ultraviolet water purifiers offer rapid water treatment without the use of heat or any dangerous chemicals - often for the lowest cost available by any means. Reduces bacteria, viruses, protozoa and microorganisms by 99.99%. Click HERE to view list of Microorganisms disinfected by UV

Our Purest Filters UPGRADE to the UV Dynamics Mini Racks

Nearly all online retailers of these units deliver them WITHOUT filter cartridges. WE include water filter cartridges with all our single, dual and triple UV Dynamics Mini Rack water treatment systems.

Our single cartridge systems include a 5 micron sediment filter cartridge. Our dual cartridge systems include a 5 micron sediment filter cartridge and a high capacity carbon filter cartridge. Our triple cartridge systems includes a 5 micron sediment filter, and 2 high capacity carbon filters, or you can choose to customize the 3rd cartridge (additional cost applies) with either a 1 micron 6-stage filter, GAC filter, arsenic filter, lead filter, nitrate filter, fluoride filter, iron filter or water softening (cation) filter cartridge.

• SEDIMENT FILTER: Heavy duty high flow sediment filter removes; extra-fine dirt, sand, sediment, silt, rust particles, scale particles, asbestos and any particles larger than 5 microns.

• CARBON FILTER: Heavy duty high flow, high capacity carbon filter removes; chlorine, chloramine, bad taste, odors and VOC's including insecticides, pesticides, industrial solvents*. The 10" carbon filter is rated for 80,000 gallons of filtration and our 20" carbon filter is rated for 160,000 gallons of filtration.

All the Mini-Rack cartridge filters are 4 5/8" wide HIGH-CAPACITY water filters, which doubles the amount of water filtration capacity as compared to 2 7/8" wide SLIMLINE systems.

Replacement cartridges are standard 10" or 20" x 5" filter cartridges, and available here or at many retailers or on many other water filter sales sites online.

*when present in your water

Questions about our Water Sanitizers & Water Filtering Systems?

CALL US TOLL FREE - 1-800-738-1750

ORDER UV Dynamics MINI-RACK UV Replacement Bulbs HERE

The UV Dynamics UV Water Sanitizer & UV Water Purifiers features also include:

• Water Purification from 6 to 16 gallons per minute [GPM] = 360 to 960 gallons per hour [GPH]
• Potable & high purity water point-of-use applications
• Passivated and polished 304 Stainless Steel reactor chambers manufactured from A249 pressure rated tube
• Advanced UV Detection System designed to minimize nuisance alarms
• Nominal 6 to 16 GPM flow rates at 30mJ dose
• 3/4" porting
• Audio / visual lamp timer included on UV system
• Stainless Steel interconnect plumbing
• UV bulb life of approximately 9,000 hours (approx. 375 days)
• Annual UV lamp replacement reminder feature
• Domed quartz sleeve to simplify servicing
• BPA FREE plastic cartridges
• No tools required for regular servicing
• Easy-service lamp connector
•
• Optional Heavy-duty floor stand available (shown at right - click image at right to view as a larger image)
• 54 Units to choose from with flow rates from 6 GPM up to 16 GPM (360 GPH to 960 GPH) - all featured below
•

SCROLL DOWN TO ORDER OUR SINGLE, DOUBLE & TRIPLE CARTRIDGE MINI RACK UV UNITS

Our Mini Rack Ultraviolet Water Purifiers and Cartridge Filter Applications include:

Home and Business water filtration, treatment and disinfection
Well Water treatment, purification and disinfection
Surface Water disinfection
Municipal Water sanitizing
Rural Water sanitizing
Restaurants, Food Service and Food Processing water purification and disinfection uses
Hospitals, Healthcare and Clinics
Pharmaceuticals
Hotels and Resorts, Campgrounds, Rural & Private Communities
Water Bottlers and Beverage Bottlers
Laboratories
and more...

SINGLE

CARTRIDGE MINI-RACK UV SANITIZER & WATER FILTER TREATMENT SYSTEMS

A Purest Filters Upgrade - Our single cartridge 10" and 20" UV Dynamics Mini-Rack Ultraviolet disinfection and water filtering systems includes a 5 micron sediment filter. Complete with wall mount assembly. The larger 20" cartridge systems double the amount of water you can filter before the filter cartridge should be replaced. Both the 10" and 20" units UV lamps are designed to last 9,000 hours (approximately 375 days).

All of the following MINI-RACK cartridge filters are 5" wide HIGH CAPACITY water filters, which doubles the amount of water filtration capacity as compared to 2 7/8" wide SLIMLINE systems. Want to further customize one of these affordable Mini-Rack whole house water systems? - Call us Toll Free 1-800-738-1750

Click on either Mini-Rack image above to view as a larger image

UV Dynamics


Single Cartridge


Mini-Rack Model #
Flow Rate
(GPM*)
Single
Cartridge
Filter Size
Dimensions
Port Size
(MNPT)
Electrical
Solenoid
Output
Price
Order
Width
Depth
Length
MR180-TP1/100
6 gpm
10x5
15"
8"
18"
3/4"
110-120V
No

$682.00

MR180-TP1/200
6 gpm
20x5
15"
8"
23"
3/4"
110-120V
No

$715.00

---

MR240-TP1/100
8 gpm
10x5
15"
8"
22"
3/4"
110-120V
No

$748.00

MR240-TP1/200
8 gpm
20x5
15"
8"
23"
3/4"
110-120V
No

$781.00

---

MR245-TP1/100
8 gpm
10x5
15"
8"
18"
3/4"
110-120V
No

$742.00

MR245-TP1/200
8 gpm
20x5
15"
8"
23"
3/4"
110-120V
No

$775.00

---

MR320-TP1/100
10 gpm
10x5
15"
8"
22"
3/4"
110-120V
Yes

$836.00

MR320E-TP1/100
10 gpm
10x5
15"
8"
22"
3/4"
110-120V
No

$748.00

MR320-TP1/200
10 gpm
20x5
15"
8"
23"
3/4"
110-120V
Yes

$891.00

MR320E-TP1/200
10 gpm
20x5
15"
8"
23"
3/4"
110-120V
No

$786.00

---

MR400-TP1/100
13 gpm
10x5
15"
8"
25.5"
3/4"
110-120V
Yes

$863.00

MR400E-TP1/100
13 gpm
10x5
15"
8"
25.5"
3/4"
110-120V
No

$830.00

MR400-TP1/200
13 gpm
20x5
15"
8"
25.5"
3/4"
110-120V
Yes

$907.00

MR400E-TP1/200
13 gpm
20x5
15"
8"
25.5"
3/4"
110-120V
No

$880.00

---

MR485-TP1/100
16 gpm
10x5
15"
8"
28"
3/4"
110-120V
Yes

$918.00

MR485E-TP1/100
16 gpm
10x5
15"
8"
28"
3/4"
110-120V
No

$885.00

MR485-TP1/200
16 gpm
20x5
15"
8"
28"
3/4"
110-120V
Yes

$968.00

MR485E-TP1/200
16 gpm
20x5
15"
8"
28"
3/4"
110-120V
No

$940.00


NOTES: Flow rates are stated at 30mJ/cmē at 95%UVT.
*GPM - Gallons per Minute / *GPH - Gallons per Hour


12/24/2016 / All UV Dynamics - 7/19 /

9/19



REPLACEMENT FILTERS
Price
Order
10x5 5 Micron Sediment Filter
Removes; extra-fine dirt, sand, sediment, silt, rust particles, scale particles, asbestos and more larger than 5 microns.

$34.50

20x5 5 Micron Sediment Filter
Removes; extra-fine dirt, sand, sediment, silt, rust particles, scale particles, asbestos and more larger than 5 microns.

$49.50

NO SALES TAX for orders outside of FLORIDA - Quantity Discounts are always Available
FREE GROUND SHIPPING** for all orders within the Continental U.S.
For orders outside the Continental USA - Contact us directly for additional SHIPPING CHARGES

SCROLL DOWN TO VIEW THE DUAL MINI RACK CARTRIDGE SYSTEMS

---

DUAL

CARTRIDGE MINI-RACK UV SANITIZER & WATER FILTER TREATMENT SYSTEMS

A Purest Filters UPGRADE - Our Dual 10" and 20" UV Dynamics Mini-Rack UV disinfection and water filtering systems includes a 5 micron sediment filter and a 5 micron carbon filter. Complete with wall mount assembly. The larger 20" cartridge systems double the amount of water you can filter before the filter cartridges should be replaced. Both the 10" and 20" units UV lamps are designed to last 9,000 hours (approximately 375 days). Optional GAC, Arsenic, Lead, Nitrate, Fluoride, Iron, 1 Micron 6-stage filtering and Cation (water softening) cartridges are also available.

All of the following MINI-RACK cartridge filters are 5" wide HIGH CAPACITY water filters, which doubles the amount of water filtration capacity as compared to 2 7/8" wide SLIMLINE systems. Want to further customize one of these affordable Mini-Rack whole house water systems? - Call us Toll Free 1-800-738-1750





Above: Dual Mini-Rack 10" cartridge UV system with two included
10"x5" 5-micron cartridges - 1 sed6ment, 1 carbon

Above: Mini-Rack Dual 20" cartridge UV system with two included
20"x5" 5-micron cartridges - 1 sediment, 1 carbon


Click on either Mini-Rack image above to view as larger images

UV Dynamics


Dual Cartridge


Mini-Rack
Model #
Flow Rate
(GPM*)
Dual
Cartridge
Filter Sizes
Dimensions
Port Size
(MNPT)
Electrical
Solenoid
Output
Price
Order
Width
Depth
Length
MR180-TP2/110
6 gpm
10x5
23"
8"
18"
3/4"
120V
No

$809.00

MR180-TP2/220
6 gpm
20x5
23"
8"
23"
3/4"
120V
No

$852.00

---

MR240-TP2/110
8 gpm
10x5
23"
8"
22"
3/4"
120V
No

$880.00

MR240-TP2/220
8 gpm
20x5
23"
8"
23"
3/4"
120V
No

$927.00

---

MR245-TP2/110
8 gpm
10x5
23"
8"
18"
3/4"
120V
No

$874.00

MR245-TP2/220
8 gpm
20x5
23"
8"
23"
3/4"
120V
No

$923.00

---

MR320-TP2/110
10 gpm
10x5
23"
8"
22"
3/4"
120V
Yes

$968.00

MR320E-TP2/110
10 gpm
10x5
23"
8"
22"
3/4"
120V
No

$880.00

MR320-TP2/220
10 gpm
20x5
23"
8"
23"
3/4"
120V
Yes

$1,033.00

MR320E-TP2/220
10 gpm
20x5
23"
8"
23"
3/4"
120V
No

$1,006.00

---

MR400-TP2/110
13 gpm
10x5
23"
8"
25.5"
3/4"
120V
Yes

$995.00

MR400E-TP2/110
13 gpm
10x5
23"
8"
25.5"
3/4"
120V
No

$962.00

MR400-TP2/220
13 gpm
20x5
23"
8"
25.5"
3/4"
120V
Yes

$1,061.00

MR400E-TP2/220
13 gpm
20x5
23"
8"
25.5"
3/4"
120V
No

$1,028.00

---

MR485-TP2/110
16 gpm
10x5
23"
8"
28"
3/4"
120V
Yes

$1,050.00

MR485E-TP2/110
16 gpm
10x5
23"
8"
28"
3/4"
120V
No

$1,023.00

MR485-TP2/220
16 gpm
20x5
23"
8"
28"
3/4"
120V
Yes

$1,116.00

MR485E-TP2/220
16 gpm
20x5
23"
8"
28"
3/4"
120V
No

$1,089.00


NOTES: Flow rates are stated at 30mJ/cmē at 95%UVT.
*GPM - Gallons per Minute / *GPH - Gallons per Hour


12/24/2016 / All UV Dynamics - 3/15/17 /

9/19



REPLACEMENT FILTERS
Price
Order
10x5 5 Micron Sediment Filter
Removes; extra-fine dirt, sand, sediment, silt, rust particles, scale particles, asbestos and more larger than 5 microns.

$34.50

10x5 Carbon Filter
Removes; chlorine, chloramine, VOC's including insecticides, pesticides, industrial solvents, bad taste and more. 80,000 Gallon filter capacity**.

$39.50

---

20x5 5 Micron Sediment Filter
Removes; extra-fine dirt, sand, sediment, silt, rust particles, scale particles, asbestos and more larger than 5 microns.

$44.50

20x5 Carbon Filter
Removes; chlorine, chloramine, VOC's including insecticides, pesticides, industrial solvents, bad taste and more. 160,000 Gallon filter capacity**.

$49.50

**Filter capacities are approximate and are determined by your incoming waters quality

SCROLL DOWN TO VIEW THE TRIPLE MINI RACK CARTRIDGE SYSTEMS

---

TRIPLE

CARTRIDGE MINI-RACK UV SANITIZER & WATER FILTER TREATMENT SYSTEMS

Our TRIPLE UV Dynamics Mini Rack integrated UV disinfection and cartridge water treatment system includes a 5 micron sediment filter, and TWO 5 micron carbon filters.

You can also choose to customize your 3rd water filtering cartridge (additional cost applies) - Choose a 1 micron 6-Stage filter, GAC filter, arsenic filter, lead filter, nitrate filter, fluoride filter, iron filter or a cation (water softening) cartridge filter as your 3rd water filtering and treatment option.

These high volume triple cartridge filter systems (from 6 GPM* to 16 GPM) with their integrated Ultraviolet water sanitizer are an exceptional WHOLE HOUSE water treatment system for both residential city and rural water system treatment and well water filtering and treatment / purification.

UV Dynamics Mini Rack Triple Cartridge system with 20" cartridges shown at right with optional floor stand. Click either image to view it as a larger image.

Compact, chemical-free, easy to maintain with UV lamp replacement after 1 year, and easy cartridge replacement at approximately the same time (or often much longer) depending on your water treatment needs.

These complete water treatment and water disinfection systems are easy to maintain, and add NO chemicals to your now fully treated, disinfected clean and healthy great tasting water. Available in both triple 10" or triple 20" cartridges. The larger 20" cartridge systems double the amount of water you can filter before the filter cartridges should be replaced. Both the 10" and 20" units UV lamps provide maximum water disinfection for 9,000 hours (approximately 375 days).

All of the following MINI-RACK cartridge filters are 5" wide HIGH CAPACITY water filters, which doubles the filtering capacity of 2 7/8" wide cartridge systems. Want to further customize one of these affordable Mini-Rack whole house water systems or have QUESTIONS? - Call us Toll Free 1-800-738-1750

*GPM = gallons per minute

UV Dynamics


Triple Cartridge


Mini-Rack
Model #
Flow Rate
(GPM*)
Triple
Cartridge
Filter Sizes
Dimensions
Port Size
(MNPT)
Electrical
Solenoid
Output

BASE PRICE


w/ 1 5-Micron
Sediment
& 2 Carbon
Filters
ORDER
Choose OPTIONAL Upgraded 3rd filter option before clicking Add To Cart / Buy Now Button - If your 3rd filter choice is other than the 2nd included 5 Micron Carbon filter
Width
Depth
Length
MR180-TP3/111
6 gpm
10x5
32"
8"
18"
3/4"
120V
No

$1,139.00

MR180-TP3/222
6 gpm
20x5
32"
8"
23"
3/4"
120V
No

$1,324.00

---

MR240-TP3/111
8 gpm
10x5
32"
8"
22"
3/4"
120V
No

$1,190.00

MR240-TP3/222
8 gpm
20x5
32"
8"
23"
3/4"
120V
No

$1,371.00

---

MR245-TP3/111
8 gpm
10x5
32"
8"
18"
3/4"
120V
No

$1,183.00

MR245-TP3/222
8 gpm
20x5
32"
8"
23"
3/4"
120V
No

$1,367.00

---

MR320-TP3/111
10 gpm
10x5
32"
8"
22"
3/4"
120V
Yes

$1,302.00

MR320E-TP3/111
10 gpm
10x5
32"
8"
22"
3/4"
120V
No

$1,227.00

MR320-TP3/222
10 gpm
20x5
32"
8"
23"
3/4"
120V
Yes

$1,490.00

MR320E-TP3/222
10 gpm
20x5
32"
8"
23"
3/4"
120V
No

$1,417.00

---

MR400-TP3/111
13 gpm
10x5
32"
8"
25.5"
3/4"
120V
Yes

$1,317.00

MR400E-TP3/111
13 gpm
10x5
32"
8"
25.5"
3/4"
120V
No

$1,302.00

MR400-TP3/222
13 gpm
20x5
32"
8"
25.5"
3/4"
120V
Yes

$1,503.00

MR400E-TP3/222
13 gpm
20x5
32"
8"
25.5"
3/4"
120V
No

$1,477.00

---

MR485-TP3/111
16 gpm
10x5
32"
8"
28"
3/4"
120V
Yes

$1,372.00

MR485E-TP3/111
16 gpm
10x5
32"
8"
28"
3/4"
120V
No

$1,357.00

MR485-TP3/222
16 gpm
20x5
32"
8"
28"
3/4"
120V
Yes

$1,558.00

MR485E-TP3/222
16 gpm
20x5
32"
8"
28"
3/4"
120V
No

$1,545.00

---

NOTES: Flow rates are stated at 30mJ/cmē at 95%UVT.
*GPM - Gallons per Minute / *GPH - Gallons per Hour
12/24/2016 - systems & cartridges / systems - 7/19 / 9/19 & 7/20


REPLACEMENT FILTERS
Price
Order
10x5 5 Micron Sediment Filter
Removes; extra-fine dirt, sand, sediment, silt, rust particles, scale particles, asbestos and more larger than 5 microns.

$34.50

10x5 Carbon Filter
Removes; chlorine, chloramine, VOC's including insecticides, pesticides, industrial solvents, bad taste and more. 80,000 Gallon filter capacity**.

$39.50

---

20x5 5 Micron Sediment Filter
Removes; extra-fine dirt, sand, sediment, silt, rust particles, scale particles, asbestos and more larger than 5 microns.

$44.50

20x5 Carbon Filter
Removes; chlorine, chloramine, VOC's including insecticides, pesticides, industrial solvents, bad taste and more. 160,000 Gallon filter capacity**.

$49.50

---

3rd FILTER REPLACEMENTS / OPTIONAL FILTERS
Price
Order
10x5 1 Micron 6-Stage Filter
#RC-04027 - 6 stage filtration cartridge - one-micron filter pad, ERA-6500, ERA-9500, GAC (coconut shell), ceramic filtration, and another one-micron pad. Capacity: 80,000 Gallons** (<100 ppm hardness) Click here to view 6 stage filtering details

$159.00

20x5 1 Micron 6-Stage Filter
#RC-04030 - 6 stage filtration cartridge - one-micron filter pad, ERA-6500, ERA-9500, GAC (coconut shell), ceramic filtration, and another one-micron pad. Capacity: 160,000 Gallons** (<100 ppm hardness) Click here to view 6 stage filtering details

$241.00

---

10x5 Arsenic Filter
#RC-04067

$184.00

20x5 Arsenic Filter
#RC-04070

$261.00

---

10x5 Lead Filter
#RC-04150

$172.00

20x5 Lead Filter
#RC-04151

$261.00

---

10x5 Nitrate Filter
#RC-04066

$164.00

20x5 Nitrate Filter
#RC-04069

$241.00

---

10x5 Fluoride Filter
#RC-04065 - reduces fluoride below 0.5 ppm.

$166.00

20x5 Fluoride Filter
#RC-04068 - reduces fluoride below 0.5 ppm.

$239.00

---

10x5 Iron Filter
#RC-04072 - reduces iron below 0.3 ppm.

$134.00

20x5 Iron Filter
#RC-04077 - reduces iron below 0.3 ppm.

$189.00

---

10x5 Cation Filter (Water Softening Filter)
#RC-04076

$69.00

20x5 Cation Filter (Water Softening Filter)
#RC-04071

$99.00


**Filter capacities are approximate and are determined by your incoming waters quality

Cartridges - 12/21/2016 / 3/20

---

Questions about our Water Sanitizers & Water Filtering Systems?

Or want to further customize one of these affordable Mini-Rack whole house systems? - Call us Toll Free 1-800-738-1750

NO SALES TAX for orders outside of FLORIDA - Quantity Discounts are always Available
FREE GROUND SHIPPING** for all orders within the Continental U.S.
For orders outside the Continental USA - Contact us directly for additional SHIPPING CHARGES

---


The Hydro-Safe 3-in-1 Whole House Water Filter System




The HydroSafe HSFS Flow-Max UV Plus Components include: filter housing, proprietary filter cartridge, stainless steel chamber, UV disinfecting lamp, ballast, lid with swing bolt closure.

The HydroSafe HSFS Flow-Max UV Plus whole house water filter offers Triple Treat Protection while providing exceptional water filtration and disinfection for your whole home or business application. 2 Filter medias and UV light disinfection for clean and healthy water.

The Hydro-Safe 3-in-1 Water Filter Rugged Construction

The Hydro-Safe HSFS filter vessel is manufactured from rugged, glass-reinforced polypropylene so they will not chip, rust or dent.

The lid closure is safe and secure, using stainless steel swing bolts (industrial grade 304 stainless steel) for optimum safety and life. Filter vessel is rated for pressures to 125 psi. Cartridge vessel specifications include: Pipe fittings - 2" slip, overall height - 40", overall width of vessel - 12".

Available in a 0.2 Micron filter or a 5 Micron water filtering system.

Water Filtering and Disinfection Applications include:

Whole House Filtration including Well Water Water Filtration
Commercial & Industrial Water Filtration
Drinking Water Systems
Food Service
Office Buildings
Campgrounds
Mobile Home Parks
Community Water Filter / Purifying Systems
Water for livestock and poultry
Swimming Pools and Water Parks
Mister Water Filtering and Sanitizing in Outdoor Public Areas
And more...

The innovative HydroSafe HSFS Flow-Max UV Plus 3-in-1 water filtration and water disinfection system incorporates three technologies in one water filtering & water sanitizing unit to provide three-step complete water treatment to remove:

Bacteria, Viruses & Microorganisms
Cysts
Chlorine
Tastes
Odors
Sediment
And more...

Two Outlets for more plumbing options (shown in photo above at right)

The Hydro-Safe filter housing offers two outlets on opposite sides of the vessel to allow more flexibility with plumbing configurations. The filter housing may be installed in-line or piping may come from the same direction. A plug is provided for the outlet, not used.

Unlike many other whole house water filtering systems on the market today, the Hydro-Safe Flow-Max UV Plus water filtration systems are affordable for many consumers, they also offer an easy to replace filter cartridge and UV water sanitizing lamp for your ease of replacement.

The Triple Treat Protection

STEP 1 - 0.2 Micron Filtration (shown at left)

The Hydro-Safe filter cartridge is pleated for greater surface area using a micro-fiber, rated at 0.2 micron. This unique filter media is certified under NSF / ANSI Standard 53 for cysts reduction with the capacity to remove sub-micron particles and harmful microorganisms with very little pressure drop or flow reduction.

A 5 Micron filter system is also available below.

STEP 2 - Carbon Treatment (shown at left)

An exceptionally fine activated carbon powder is added to the sub micron filter fiber using an electrostatic bonding process. Activated carbon provides a secondary treatment process to remove chlorine, taste and odors.

STEP 3 - UV Light Disinfection (shown at right)

During the final water treatment process, water flows into a stainless steel reaction chamber where it is exposed to a 254 nanometer UV lamp. Inside this chamber bacteria, viruses and other harmful microorganisms are destroyed to provide water disinfection without the use of chemicals. The UV lamp is rated for 12 months of continuous service. (30 mj/cm2 at 10 GPM service flow)

Conserves Water!

The Flow-Max Filter Systems are 100% efficient because no backwashing is required. Valuable water is conserved with no waste.

Easy to Maintain and Replace Filter Cartridge and UV Lamp

| | | |
| --- | --- | --- |
| | | |
| 254 nm UV lamp is installed in a stainless steel chamber for optimum performance | UV Lamp is easily replaced by disconnecting the electrical power. | The Cartridge has a double o-ring at both ends for superior sealing and performance |

Specifications for the HydroSafe HSFS Flow-Max UV Plus (Hydro-Safe 3-in-1 Water System)

Flow Rate (maximum) for both 0.2 Micron and 5 Micron Systems
14 GPM
Water Flow Diagram for HSFS
Click on image to view as larger

Voltage (lamp)
110 Volts
Cartridge capacity (gallons / average use) for 0.2 Micron System
120,000 Gallons
Cartridge capacity (gallons / average use) for 5 Micron System
140,000 Gallons
UV dose rate (mJ/cm2)
40,000 +
Bacteria reduction*
99.9%
*E-Coli used for test with cartridge in place.
The Flow-Max UV Plus systems have been third part tested to verify that they meet or exceed the 40 mJ/cm2 requirement for disinfection at the specified water flow rates

ORDERING of HydroSafe HSFS Flow-Max UV Plus Whole House Water Filter UNIT & REPLACEMENT PARTS

Item - Flow-Max UV Plus

0.2 Micron

Filter System
Model #
Price
Order
HydroSafe HSFS Flow-Max UV Plus Complete Unit*
HSFS

$2,092.00

HSFS 0.2 Micron Replacement Cartridge
HSFSCART-PAC
$530.00
HSFS UV Lamp
HSFSLAMP
$124.00
HSFS Quartz Sleeve
HSFSQUARTZ
$93.00
HSFS Ballast
WUVBALLAST6-12
$166.00
* The 0.2 Micron system requires a 1 Micron pre-filter in order to maximize the life of the 0.2 Micron Filter.

NO SALES TAX for orders outside of FLORIDA - Quantity Discounts are always Available
FREE GROUND SHIPPING** for all orders within the Continental U.S.
For orders outside the Continental USA - Contact us directly for additional SHIPPING CHARGES


Item - Flow-Max UV Plus

5 Micron

Filter System
Model #
Price
Order
HydroSafe HSFS-5M Flow-Max UV Plus Complete Unit
HSFS-5M

$1,928.00

HSFS-5M 5 Micron Replacement Cartridge
HSFSCART-ACP
$380.00
HSFS-5M UV Lamp
HSFSLAMP
$124.00
HSFS-5M Quartz Sleeve
WUVQUARTZ
$93.00
HSFS-5M Ballast
WUVBALLAST6-12
$166.00

UPDATED - 8/19

Questions about our Water Sanitizers & Water Filtering Systems?

CALL US TOLL FREE - 1-800-738-1750

INTERNATIONAL SHIPPING IS AVAILABLE ON ALL OF OUR WATER SYSTEMS
CALL US TOLL FREE WITH QUESTIONS OR FOR ADDITIONAL INFORMATION - 1.800.738.1750


---
View all of our Water Treatment Systems & All of our Healthy Home Products:
[ Up ] [ Water Filters Home Page ] [ Whole House Water Filters with UV Purifiers ] [ IRON Removal Water Filters ] [ Water Softeners ] [ Ultraviolet Air, Room & Surface Sanitizers ]

Sales Hours:
Monday - Friday: 9:00AM to 8:00PM EST
Saturday: 9:00AM to 5:00PM EST
Sunday: 10:00AM to 4:00PM EST
Service and Repair:
Monday - Friday: 9:00AM to 8:00PM EST
TOLL FREE PHONE: 1.800.738.1750