The Hydro-Safe 3-in-1 Whole House Water Filter System
The HydroSafe HSFS Flow-Max UV Plus Components include: filter housing, proprietary filter cartridge, stainless steel chamber, UV disinfecting lamp, ballast, lid with swing bolt closure.

The HydroSafe HSFS Flow-Max UV Plus whole house water filter offers Triple Treat Protection when providing exceptional water filtration and disinfection for your whole home, well water treatment or business application. 2 Filter medias and UV light disinfection lamp for clean and healthy water.
Your water is filtered and disinfected without the use of any chemicals and your outgoing flow rate is rated for a maximum of 14 gallons per minute.
The Hydro-Safe 3-in-1 Water Filter Rugged Construction
The Hydro-Safe HSFS filter vessel is manufactured from rugged, glass-reinforced polypropylene so they will not chip, rust or dent.
The lid closure is safe and secure, using stainless steel swing bolts for optimum safety and life. The water filtering vessel is rated for pressures to 125 psi.
Available in a 0.2 Micron filter for up to 120,000 gallons of filtration or a 5 Micron filtering system for up to 140,000 gallons of filtration.
Water Filtering and Disinfection Applications include:
Whole House Filtration including Well Water Water Filtration & Disinfection
Commercial & Industrial Water Filtration
Drinking Water Systems
Food Service
Office Buildings
Campgrounds
Mobile Home Parks
Community Water Filter / Purifying Systems
Water for livestock and poultry
Swimming Pools and Water Parks
Mister Water Filtering and Sanitizing in Outdoor Public Areas

And more uses...
The innovative HydroSafe HSFS Flow-Max UV Plus 3-in-1 water filtration system incorporates three technologies in one water filtering / water sanitizing unit to provide three-step treatment to remove:
Bacteria, Viruses & Microorganisms (including E. coli, coliform, giardia, salmonella, Staphylococcus and others)
Cysts
Chlorine
Tastes
Odors
Sediment
And more...
Unlike many other whole house water filtering systems on the market today, the Hydro-Safe Flow-Max UV Plus water filtration and treatment systems are affordable for many consumers, they also offer an easy to replace filter cartridge and UV water sanitizing lamp for your ease of replacement.
Two Outlets for more plumbing options (shown in photo above at right)
The Hydro-Safe whole house water filter and water sanitation housing offers two outlets on opposite sides of the vessel to allow more flexibility with plumbing configurations. The filter housing may be installed in-line or piping may come from the same direction. A plug is provided for the outlet, not used.
Pipe fittings - 2" slip, overall height - 40", overall width of vessel - 12"
The Triple Treat Protection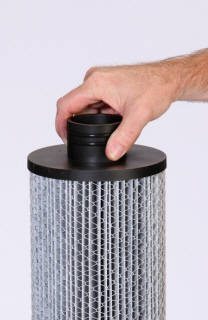 STEP 1 - 0.2 Micron Filtration (shown at left)
The Hydro-Safe filter cartridge is pleated for greater surface area using a micro-fiber, rated at 0.2 micron. This unique filter media is certified under NSF / ANSI Standard 53 for cysts reduction with the capacity to remove sub-micron particles and harmful microorganisms with very little pressure drop or flow reduction. Double O-Rings for superior sealing.
A 5 Micron cartridge and filter system is also available below.
STEP 2 - Carbon Treatment (shown at left)
An exceptionally fine activated carbon powder is added to the sub micron filter fiber using an electrostatic bonding process. Activated carbon provides a secondary treatment process to remove chlorine, bad tastes and odors.
STEP 3 - UV Light Disinfection (shown at right)
During the final water treatment process, water flows into a stainless steel reaction chamber where it is exposed to a 254 nanometer UV lamp. Inside this chamber bacteria, viruses and other harmful microorganisms are destroyed to provide water disinfection without the use of chemicals. The UV lamp is rated for 12 months of continuous service. (30 mj/cm2 at 10 GPM service flow)
Conserves Water!
The Flow-Max Water Filter Systems are 100% efficient because no backwashing is required. Valuable water is conserved with no waste.
Easy to Maintain and Replace Filter Cartridge and Ultraviolet Lamp Disinfection System
| | | |
| --- | --- | --- |
| | | |
| 254 nm UV lamp is installed in a stainless steel chamber for optimum performance | UV Lamp is easily replaced by disconnecting the electrical power. | The Cartridge has a double o-ring at both ends for superior sealing and performance |