CQ 6 Stage Filtering Information
Whole House SMART Filter Water Systems > 6 Stage Filter Info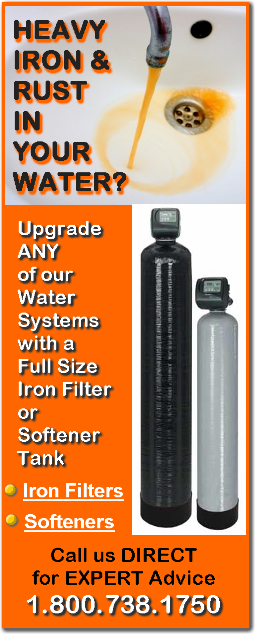 CQ is utilizing the latest technologies in the water industry, coupled with over 40 years of manufacturing expertise, we provide you with the most effective, healthy, great-tasting water conveniently at the most affordable price. CQ products are attractive, easy to install and use, and removes many contaminants from your water*.
* if present in the water
These cartridges utilize the latest technologies in the water filtration industry, allowing them to provide you with healthy great-tasting water. Each filter cartridge has multi levels or stages of filtration. These stages include micron filter pads, Granulated Activated carbon (GAC), Catalytic Carbon GAC, Ion Exchange resin, Eagle Redox Alloy 6500 and Eagle Redox Alloy 9500. The multistage design allows for the removal of many different contaminants from one cartridge
EFFECTIVE - SIX STAGE FILTRATION
Stage 1: Water flows through a one-micron filter pad which removes suspended particles such as silt, sediment, cyst (Giardia, Cryptosporidium), sand, rust, dirt, and other undissolved matter.*
Stage 2: Water passes through coconut shell granulated activated carbon (Arsenic-Free GAC™). GAC is universally recognized and regularly used as an effective adsorbent for removing a wide variety of organic contaminants, bad taste and odors from drinking water. Click here to learn more about GAC
Stage 3: Water flows through the ion exchange resin, reducing heavy metals such as lead, copper, aluminum, and water hardness.
Stage 4 & 5: Water flows through a bed of media made of a special high-purity alloy blend of two dissimilar metals - copper and zinc (Eagle Redox Alloy 6500 and Eagle Redox Alloy 9500.) - Click here to learn more about Eagle Redox Alloy
Stage 6: Water flows through another one-micron filtration pad for further reduction of undesirable particles. The end result is a great reduction or the total elimination of a wide variety of contaminants.
* if present in the water
---
[ Up ] [ CQ 6 Stage Filter Info ] [ CQ 7 Stage Filter Info ] [ CQ 8 Stage Filter Info ]
---

Sales Hours:
Monday - Friday: 9:00AM to 8:00PM EST
Saturday: 9:00AM to 5:00PM EST
Sunday: 10:00AM to 4:00PM EST
Service and Repair:
Monday - Friday: 9:00AM to 8:00PM EST
Email: sales@purestfilters.com