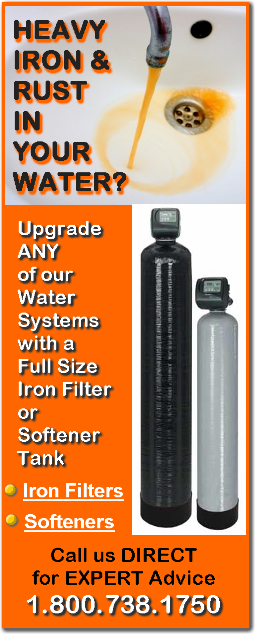 THE HEALTHIER WATER SOLUTION TO PROTECT YOUR FAMILY AND ENTIRE HOMES WATER -
Well Water Filter and Water Ultraviolet Sanitizing Systems and Whole House Water Filters with UV Water Sanitizers Built in
Healthy & Clean - DRINKING WATER, COOKING WATER, SINKS, SHOWERS, BATHS, WASHERS AND TOILETS
The following whole house water filtering and ultraviolet water treatment unit features an easy to use replaceable cartridge water filter for the highest quality in cleaner and healthier home water.
Purest Filters is proud to offer the protection of a number of Whole House Water Filtration & UV Water Purifier and Sanitizer systems. Our cartridge style whole house water filter and water purifier systems include complete systems by HydroSafe. The Hydrosafe 3-in-1 Flow Max water treatment systems featured below include built in UV water purifying and disinfection. Click HERE to view list of Microorganisms disinfected by UV
The Hydrosafe 3-in-1 Flow Max utilizes a germicidal ultraviolet lamp that produces short wave radiation lethal to bacteria, viruses, parasites and many other microorganisms present in water such as coliform, E coli, Giardia, Staphylococcus, algae, mold and much more without the use of heat or any chemicals.
Also, NO maintenance contracts, NO commitments to purchase replacement cartridges and filters from us ever. You can purchase your replacement filters, water filter supplies, replacement UV lamps and bulbs from most any water filter retailer either in their store or online.
We also offer a full range of replacement filters and parts for our systems and most others systems.
These exceptional whole house water filtration and UV water sanitizing systems are available from Purest Filters
.
Call us Toll Free 1-800-738-1750 with any questions you may have.
* Free Ground Shipping in the Continental U.S.
** Grounded electrical outlet are the responsibility of the customer.
** Installation by a qualified plumber is highly recommended.

Hydro Safe Flow-Max Whole House Water Filter and UV Water Purifier Systems

The Hydro-Safe 3-in-1 Whole House Water Filter System
The HydroSafe HSFS Flow-Max UV Plus Components include: filter housing, proprietary filter cartridge, stainless steel chamber, UV disinfecting lamp, ballast, lid with swing bolt closure.
The HydroSafe HSFS Flow-Max UV Plus whole house water filter offers Triple Treat Protection when providing exceptional water filtration and disinfection for your whole home or business application. 2 Filter medias and UV light disinfection lamp for clean and healthy water.
The Hydro-Safe 3-in-1 Water Filter Rugged Construction
The Hydro-Safe HSFS filter vessel is manufactured from rugged, glass-reinforced polypropylene so they will not chip, rust or dent.
The lid closure is safe and secure, using stainless steel swing bolts for optimum safety and life. Filter vessel is rated for pressures to 125 psi.
Available in a 0.2 Micron filter or a 5 Micron filtering system. Both will filter and sanitize up to 14 GPM (gallons per minute) = 840 GPH (gallons per hour) of your homes water.
Water Filtering and Disinfection Applications include:
Whole House Filtration including Well Water Water Filtration
Commercial & Industrial Water Filtration
Drinking Water Systems
Food Service
Office Buildings
Campgrounds
Mobile Home Parks
Community Water Filter / Purifying Systems
Water for livestock and poultry
Swimming Pools and Water Parks
Mister Water Filtering and Sanitizing in Outdoor Public Areas

And more...
The innovative HydroSafe HSFS Flow-Max UV Plus 3-in-1 water filtration system incorporates three technologies in one water filtering / water sanitizing unit to provide 3-step treatment to remove:
Bacteria, Viruses & Microorganisms
Cysts
Chlorine
Tastes
Odors
Sediment
And more...
Unlike many other whole house water filtering systems on the market today, the Hydro-Safe Flow-Max UV Plus water filtration and treatment systems are affordable for many consumers, they also offer an easy to replace filter cartridge and UV water sanitizing lamp for your ease of replacement.
The Triple Treat Protection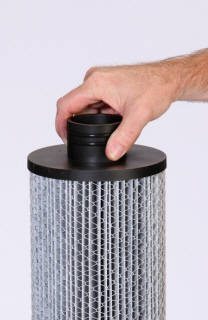 STEP 1 - 0.2 Micron Filtration (shown at left)
The Hydro-Safe filter cartridge is pleated for greater surface area using a micro-fiber, rated at 0.2 micron. This unique filter media is certified under NSF / ANSI Standard 53 for cysts reduction with the capacity to remove sub-micron particles and harmful microorganisms with very little pressure drop or flow reduction.
A 5 Micron filter system is also available below.
STEP 2 - Carbon Treatment (shown at left)
An exceptionally fine activated carbon powder is added to the sub micron filter fiber using an electrostatic bonding process. Activated carbon provides a secondary treatment process to remove chlorine, taste and odors.
STEP 3 - UV Light Disinfection (shown at right)
During the final water treatment process, water flows into a stainless steel reaction chamber where it is exposed to a 254 nanometer UV lamp. Inside this chamber bacteria, viruses and other harmful microorganisms are destroyed to provide water disinfection without the use of chemicals. The UV lamp is rated for 12 months of continuous service. (30 mj/cm2 at 10 GPM service flow) Click HERE to view list of Microorganisms disinfected by UV
Conserves Water!
The Flow-Max Filter Systems are 100% efficient because no backwashing is required. Valuable water is conserved with no waste.
Easy to Maintain and Replace Filter Cartridge and UV Lamp
| | | |
| --- | --- | --- |
| | | |
| 254 nm UV lamp is installed in a stainless steel chamber for optimum performance | UV Lamp is easily replaced by disconnecting the electrical power. | The Cartridge has a double o-ring at both ends for superior sealing and performance |
Specifications for HydroSafe HSFS Flow-Max UV Plus (Hydro-Safe 3-in-1 Water System)
Flow Rate (maximum) for both 0.2 Micron and 5 Micron Systems
14 GPM
Water Flow Diagram for HSFS


Click on image to view as larger



Voltage (lamp)
110 Volts
Cartridge capacity (gallons / average use) for 0.2 Micron System
120,000 Gallons
Cartridge capacity (gallons / average use) for 5 Micron System
140,000 Gallons
UV dose rate (mJ/cm2)
40,000 +
Bacteria reduction*
99.9%
*E-Coli used for test with cartridge in place.
The Flow-Max UV Plus systems have been third part tested to verify that they meet or exceed the 40 mJ/cm2 requirement for disinfection at the specified water flow rates
ORDERING of HydroSafe HSFS Flow-Max UV Plus Whole House Water Filter UNIT & REPLACEMENT PARTS
Item - Flow-Max UV Plus

0.2 Micron

Filter System
Model #
Price
Order
HydroSafe HSFS Flow-Max UV Plus Complete Unit*
HSFS

$2,092.00

HSFS 0.2 Micron Replacement Cartridge
HSFSCART-PAC
$530.00
HSFS UV Lamp
HSFSLAMP
$124.00
HSFS Quartz Sleeve
HSFSQUARTZ
$93.00
HSFS Ballast
WUVBALLAST6-12
$166.00
* The 0.2 Micron system requires a 1 Micron pre-filter in order to maximize the life of the 0.2 Micron Filter.
NO SALES TAX for orders outside of FLORIDA - Quantity Discounts are always Available
FREE GROUND SHIPPING** for all orders within the Continental U.S.
For orders outside the Continental USA - Contact us directly for additional SHIPPING CHARGES

Item - Flow-Max UV Plus

5 Micron

Filter System
Model #
Price
Order
HydroSafe HSFS-5M Flow-Max UV Plus Complete Unit
HSFS-5M

$1,928.00

HSFS-5M 5 Micron Replacement Cartridge
HSFSCART-ACP
$380.00
HSFS-5M UV Lamp
HSFSLAMP
$124.00
HSFS-5M Quartz Sleeve
WUVQUARTZ
$93.00
HSFS-5M Ballast
WUVBALLAST6-12
$166.00
UPDATED - 8/19
---
View all of our Ultraviolet Water Filtering and Water Purification Systems:

[ Up ] [ UV Dynamics UV Water Purifiers ] [ Luminor UV ] [ Watts SmartStream UV ] [ MINIPURE UV ] [ MIGHTY*PURE UV ] [ SANITRON UV ] [ Ultimate UV ] [ VIQUA UV Water Purifiers ] [ Crystal Quest UV Water Purifiers ] [ INFINITY UV ] [ Tank Master UV ] [ UV Dynamics Mini-Rack Combo UV Water Purifiers ] [ VIQUA ALL-in-ONE Combo UV Water Purifiers ] [ LUMINOR ALL-in-ONE Combo UV Water Purifiers ] [ Bio-Logic UV and Filter System ] [ Hydro-Safe Whole House Water Filters & UV Water Purifiers ] [ UV Sanitizer & Reversis Osmosis Filters ] [ MEGATRON UV ] [ Eco-Logic UV Pond & Lake Reclamation ] [ UV Water Disinfection FAQ ] [ UV Germicidal Info ] [ Replacement UV Bulbs AND UV Lamps ]

Sales Hours:
Monday - Friday: 9:00AM to 8:00PM EST
Saturday: 9:00AM to 5:00PM EST
Sunday: 10:00AM to 4:00PM EST
Service and Repair:
Monday - Friday: 9:00AM to 8:00PM EST
TOLL FREE PHONE: 1.800.738.1750